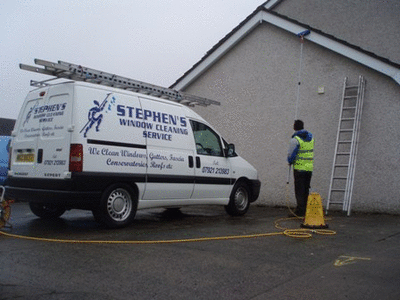 We can clean windows safely from ground up to 60 feet.
Regular window cleaning is of prime importance throughout the UK because of our notoriously unpredictable and constantly changing weather. Dirty windows can harm a companies image. Clients or potential customers may not see that the glass is clean but they certainly know if its dirty.
We specialise in offering a range of cleaning services for schools, offices, factories, nursing homes, retail outlets, children's homes, pre-schools and businesses.
We can manage sites which require a team of cleaners or individuals. No matter how frequently you need your windows cleaned we will still deliver the highest standard of workmanship ensuring quality results every time.
Stephens Window Cleaning Service fully recognise the potential hazards which window cleaning can present both to us and any other people in the immediate vicinity when cleaning is taking place. Therefore we can carry out risk assessments on each property.
Window cleaning programmes available:
Internal/external window cleaning
Daily/weekly/fortnightly/monthly/6 monthly/annual
Traditional and water fed pole methods
Safety assured